Today I am taking a respite from the wonderful world of mental health, apostasy, and AD/HD to talk about the sujet du jour:
The shitshow that is American politics.
In general, I try to avoid discussing politics on this site, seeing as political news is pretty much unavoidable most places these days, and nobody wants to hear about it.
To my readers outside the United States, I probably follow your coverage of American politics more closely than I do American news, so I'm aware of what most of the world thinks of the United States and of Americans in general.
It's humiliating to be reminded every day that an ignorant bunch of racist, homophobic, gun-toting xenophobes living in isolated pockets in the most conservative (and least populated) states throughout my country handed an incompetent nitwit the election thanks to the arcane, wibbly-wobbly math of the Electoral College¹, which apportions…
… oh fuck it. I don't even understand.
Nobody understands.
CGP Grey does, thankfully.
So if you've been paying attention to the flurry of lies and spin coming out of the White House since the Orange One and his deplorable band of criminals took over, one of their favorite lines is to insist that "the American people" voted for Donald Trump, as if his winning the Electoral College vote grants him the mandate to ban Muslims from entering the country, building his fucking wall along the U.S/Mexico border, pulling out of the Paris Climate Accord… etc.
Except that we didn't. Here's how it breaks down.
That "Voting-Eligible Population" is particularly important because it excludes anyone under age 18, along with non-citizens, convicted felons (depending on state law where they reside), and mentally incapacitated persons².
Roughly 1 in 40 Americans are prevented from voting due to a felony record, and thanks to racial disparities in policing and sentencing, many of them are non-white. Something as simple and non-violent as copyright infringement or possession of marijuana without intent to distribute (i.e., for personal use) can land someone with a felony conviction.
Thus, permanently denying them the right to vote.
According to Michael McDonald's website analyzing the results of the 2016 election votes, 3,249,802 Americans were ineligible for this reason.
---
If you've been paying attention recently, one of the Mangled Apricot Hellbeast's primary obsessions since the election is the fact that he lost the popular vote.
By roughly 2.9 million votes.
It appears to literally be driving him crazy—which is terrifying when you consider that this is the man who holds the nuclear codes.
Since November, he has repeated the baseless claim that he would have won the popular vote "if you deduct the millions of people who voted illegally."
Besides the Russian hackers operation, there is no evidence of any voter fraud, let alone three million votes. That's insane—and yet, that is precisely the narrative being peddled by the current U.S. administration.
So this "witless fucking cocksplat" of a president has ordered the formation of a commission to look into supposed voter fraud.
And this past Friday, that commission released 112 pages of unredacted emails of public comment in response to their request to the states for hand over voter information, including sensitive personal data such as birthdates, partial Social Security numbers, party affiliation and felon status³.
My favorite response was the Mississippi Secretary of State responding that "the commission can 'go jump in the Gulf of Mexico'."
But what is especially frightening about this recent initiative is the unprecedented move by this administration to cast doubt on the integrity of the results from the popular vote, seemingly in order to lend themselves the appearance of legitimacy that will allow them to carry out their reign of reckless incompetency unopposed.
However, the most striking feature of the results from the 2016 election is the fact that nearly 94 million Americans did not cast a vote for president. They may have voted for their local representatives, but 40.7% of the voting-eligible population essentially cast a vote of no confidence in how Americans elect their president.
It speaks to how disconnected many people feel from Washington, D.C., and how fed up many are with the divisive partisanship, lack of effective leadership, and utter lack of appealing candidates that were the hallmarks of the 2016 American election cycle.
The upset that resulted in the Republican victory speaks to the reality that the concerns of Americans in many (especially rural) parts of the country have gone unheeded for too long. Life is a struggle for significant parts of the population while a disproportional minority at the top enjoy undeserved tax breaks and kickbacks.
Clinton's loss speaks to the influence of Russian meddling, yes, but also the reality that the Democratic party has lost touch with a majority of Americans in the middle and working classes, to the point that it cost them many states that traditionally go blue in elections—namely, Wisconsin, Pennsylvania, Iowa, Ohio, Michigan, and Florida.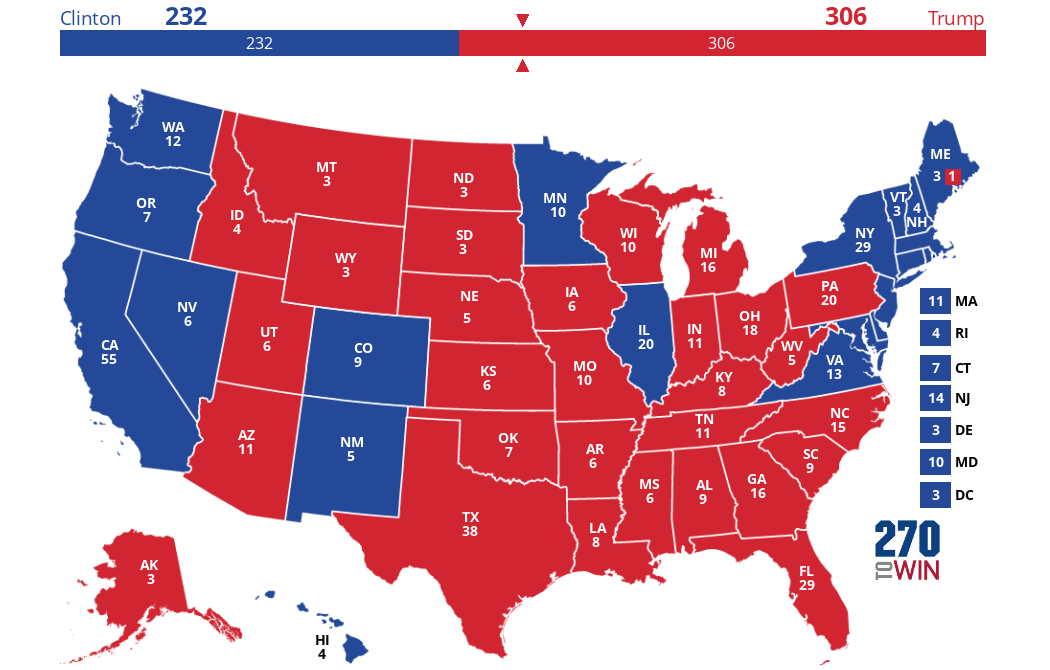 ---
The point of all this is that although the United States government is currently helmed by a sexual predator and racist Cheeto, the reality is that he does not speak for a vast majority of Americans—72.7% of us, to be precise.
He does not speak for us, or represent the type of American ideals set out in documents like the Constitution (which he clearly hasn't read). He is the ugly face of an ignorant minority who are desperate to turn back the clock on progress towards realizing the dream of Life, Liberty and the pursuit of Happiness for all.
He is Not My President.
---
Endnotes:
¹ None but a handful of Americans understand the Electoral College, which was ultimately established in 1787 to preserve the institution of slavery in the United States by way of the Three-Fifths Compromise, wherein black slaves were counted as three-fifths of a person for the purposes of census taking in order to grant states with high slave populations more votes in the electoral college.
² McDonald, Michael P. "What is the voting-age population (VAP) and the voting-eligible population (VEP)?" United States Elections Project. July 7, 2017. Accessed July 17, 2017. http://www.electproject.org/home/voter-turnout/faq/denominator.
³ Neuman, Scott. "Vote Fraud Commission Releases Public Comments, Email Addresses And All." NPR. July 14, 2017. Accessed July 17, 2017. http://www.npr.org/sections/thetwo-way/2017/07/14/537282309/vote-fraud-commission-releases-public-comments-email-addresses-and-all.