Holy ****, kids, how did it already get to be September 1?
Recently, I have been getting a number of singles ads geared towards… mature adults, which is a special feeling. I'm not sure whether this is due to fact that my internet search history reads like a Stephen Ambrose text, or the fact that I am in my mid-30s.
Do all librarians experience this type of thing? Is Google trying to tell me I ought to be dating older guys?
… on the subject of dating older guys…
Yesterday I learned that one of my ex-boyfriends is now dating a guy I went on a date with several years ago, which is a weird feeling. It's weird because virtually everyone I used to date is now with a long-term partner of some sort, and I'm the only single denominator left.
As of today, September 1:
I came out 9 years and 8 days ago.
My longest serious relationship to date is roughly 8 months and 20 days.
I have now been single for 4 years, 5 months, and 8 days.
It has been 3 years, 2 months, and 17 days since I last went on a formal date.
The last time I had sex was 1 year, 10 months, and 16 days ago.
There's a lot of emotional baggage wrapped up in those abstract dates. They're like mini tombstones, with start and end dates neatly defined for each instance.
Possibly the most sobering is that, as of next year, I will have been out as gay for ten years.
That's a huge fucking milestone.
I'll also be turning 35 years old.
It means something to be months away from having a master's degree, having finished my undergraduate degree roughly thirteen years ago, yet having not held a significant job, not having formally entered a career, or not having had a significant romantic relationship that lasted longer than nine months.
I have my theories as to why I still place so much stock in the institution of the traditional, committed, long-term dyad relationship. Perhaps it's just the longing for a family unit of my own, something I have never really known or felt safe around.
Yet most of my attempts at finding a partner have either been abortive or disastrous. My relationship with Jay lasted a mere eight months and 20 days. Since then I haven't met anyone who I was remotely interested in who was even remotely interested in me.
(Alas, note the careful wording in the last sentence.)
---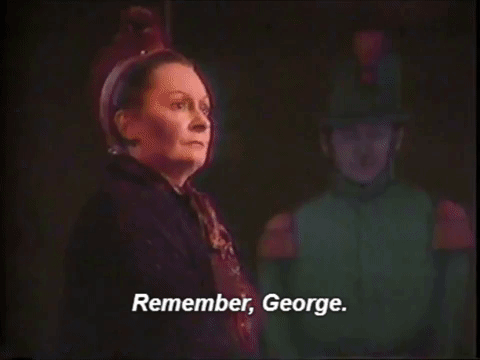 A few weeks ago, I went to see one of my favorite musicals, Sondheim's Pulitzer award-winning Sunday in the Park with George.
There are a several reasons why it's my favorite.
As Joss Whedon once observed, the first half is about the struggle of living with the weight of genius; the second is about living in the shadow of it. Through most of my life, I have lived in fear of the shadow of expectation, whether of greatness or genius I'm not sure.
There's another reason, though.
The Georges of both acts struggle to connect with people around them, and that is something I have never been fully able to do thus far. To an extent, I have been able to connect with people through my writing, to affect them and effect some small changes.
"Connect, George, connect!"
While I am good at a number of things, I have always felt acutely separated from those around me. While other children began learning how to negotiate social relationships in kindergarten and preschool, my formative years were spent at home, largely alone.
Because of the repressive, restrictive religious nature of my upbringing, I learned to censor myself, what not to say, who not to be. To protect myself from judgment and censure, my formative years were spent perfecting the art of keeping people away.
While other children had to learn to externalize their thoughts and organize them for an audience, my formative years were spent in my head, with my own thoughts.
In my silences, it's not that I don't have anything to say. It's that I don't know how to contextualize for others the long, ongoing conversation I've been having with myself for those on the outside. I don't know if this is a skill one can learn at my age.
When I write about the improbability of finding a romantic partner "at my age," what I mean is that I am terrified it will never happen—that in spite of my desire to connect and to belong, I lack the requisite social and emotional skills to sustain a relationship.
When I worry about seeing an increasing number of grey hairs in my beard, I think of how long I've been working at all this, and being nearly 35 and finishing grad school, and still feeling hopelessly behind.
When I think about dating older guys, I worry about being 35 and how much less time I'm going to have with them before they inevitably die, or before I die prematurely due to stress or the effects of my lifestyle of drinking and, frankly, lack of nutrition.
I think about how I never got to experience the insouciance of dating as a young gay man, and the joys and sorrows that go along with that.
---
I've also been asking myself recently what I really need in a relationship. Do I need monogamy, or will emotional fidelity be sufficient? In the land of gay men, where kink and open relationships are widely the norm, can I afford to be picky? If he's into leather, am I okay with being the vanilla partner?
Frankly, forming one stable intimate relationship sounds exhausting by itself. I can't fathom the emotional energy required to establish a constellation of trusted relationships to meet my needs.
These are still uncharted waters, and we're writing the rules for same-sex relationships as we go along.